Philosophy
The philosophy that underpins Beverley Omsky's curricula is based on the Early Years Learning Development Framework (EYLD), Carl Orff, Play Based Learning Principles and elements of Musical Play Therapy, Guided Imagery in Music and Guided Listening.
The initiation and collaboration of the children in their musical journey is a key factor in how Beverley approaches her work. Music is used holistically to help develop skills of lifelong learning. The children are encouraged to ask questions and direct their learning in a supportive environment.
The multi-factorial collaborative approach is utilised to incorporate flexible teaching methodologies that meet the needs of the children. There is also a community building element in the educational content.
Communication, sharing of information and socialisation underpins active participation in all services for both children and adults.
The need for active, reflective, sensing, intuitive, visual and verbal learners are respected and encouraged. This makes all of Beverley's programs highly engaging, inclusive and fun.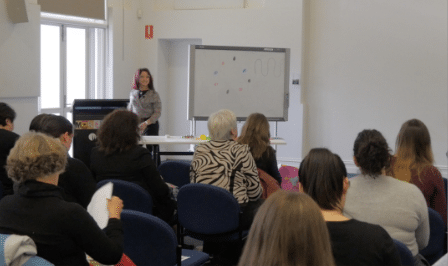 Services
Interactive ELC Musical Life Skills Programs and Music Curriculum Development – Interactive ELC Musical Life Skills Programs and Music Curriculum Development are designed to cater for individual education centres' programs into account and employs the scope for active, reflective, sensing and intuitive learners. Music is used holistically to foster positive outcomes with very high regard to a sense of wellbeing, bringing a musical sense of community to the classroom. Bonding between the children is encouraged through musical activities, games, singing, self-exploration, elementary dramatic play, dance and movement, musical storytelling and the playing of tuned and untuned percussion instruments in an ensemble setting. Well-chosen props from a vast personal library and resource centre are used to convey and bring concepts to life. This leads to elementary music reading activities, basic musical notation, learning by doing and interpreting symbols within musical maps. Guided listening is a very important aspect of each program which encourages and promotes mindfulness, relaxation and positive awareness.
Enrichment Programs, Incursions, Holiday Programs, Before and After-School Care Programs – Beverley can personally present episodes from the series she has developed called !tunias™. The children will be singing, dancing and actively participating in a unique, fun-filled musical series. Visual, auditory and kinesthetic modalities are used to help maximise effective, explorative learning.
In-Service for Kindergarten Teachers and Professional Teacher Development – For Early Childhood Practitioners, Educators, Play Therapists and Parents, bringing music to your play where no music is required. Beverley can facilitate and presents episodes of the !tunias™ series whereby educators using the storyboards and CD can utilise this incredible, ready-to-use resource at any time.
Music Education, Special Needs and Gifted Individual Instrumental Tuition – Beverley has developed an individualised, highly successful coded and pattern recognition method to engage and suit the needs of young children seeking piano lessons. Each lesson is customised for optimal development for older children and adults, AMEB examinations are optional. Beverley's students have achieved outstanding AMEB examination results with 85% receiving an A grade and 15% receiving a B+ since 1993. Digital copies of examination results available on request. Students direct their own learning and knowledge is gained from direct experience. A step by step manner of sequential learning helps connections to be made between the many different elements of the material taught.
Music Education, Special Needs and Gifted Classes for Groups – Groups of students 'play together musically and learn joyfully.' Beverley is highly experienced in facilitating group classes in private settings, schools, kindergartens, community centres, holiday programs and specialised programs for specific needs, for either adults or children. Social skills, positive interactions and self expression is fostered. A specific program is designed according to the needs of each individual child within the group. A sense of wellbeing and social awareness is fostered through child-initiated learning allowing the children to gravitate towards the musical stations of their choice. Self-confidence develops as each child has a child to lead a part of the musical experience.
Musical Compositions – CD's, songs and music accompanying audiobook 'Adventures at Humminghive.' Compositions also available on request.
For more information, please contact Beverley Omsky.